Shore Excursions for Cruise Passengers in
Gdansk
Gdansk for cruisers
Excursions
Timetable
Gdansk is a Polish city situated in the northern part of the country. Due to its unique location at the crossing point of important trading routes, a thousand-year history and old commercial traditions Gdansk has become the major port city and the meeting place of different cultures, nationalities and religions. Besides, Gdansk is Poland's pearl of original old architecture today. Gdansk is a city of almost half a million, the sea capital of Poland, a major economic, scientific and cultural center, a popular tourist destination. Located on the Gulf of Gdansk, on the southern coast of the Baltic Sea, Hansa City for centuries played a key role in the commodity exchange between the Northern and Western Europe, and Central and Eastern European countries. Today tourists arrive here for excursions. The old town is cut down by the street Dluga, with the Golden Gate and Dlugi Targ, ending by the Green Gate. Here is a great agglomeration of monuments, art galleries and goldsmiths. Here you can admire the gothic buildings of the City Council and the Court of King Arthur. Next door is the Casa de Oro, a symbol of the wealth of the bourgeoisie in Gdansk, and in front is the Fountain of Neptune, which brings together the lovers and the tourists. An architectural miracle Mariacka is the small street, with its narrow houses and terraces, under which there are galleries with amber jewelry. Gdansk is part of the community of three cities that includes the modern port Gdynia and the city-resort.

PRIVATE TOUR.
5
hours
show price for

persons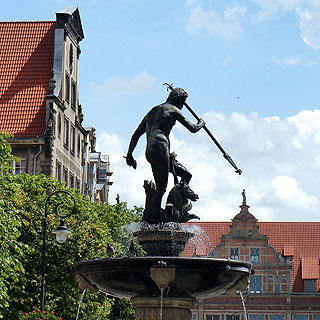 Gdansk City Tour
A 5-hour shore excursion includes a trip to Gdansk historic center and a walking tour through the city during which you will be shown Long street (ulica Dluga) and Long Market (Dlugi Targ), Golden Gate, Uphagen House, the Museum of merchant houses interiors and Gdansk Neptune Fountain (which is the
symbol of Gdansk). You will also see the inside of St. Mary's Church (Bazylika Mariacka, the largest brick church in the world that can house 25.000 people), visit King Arthur's Court (Dwor Artusa) and Gdansk Oliwa Cathedral with its famous great Oliwa organ and beautiful Baroque ornamentation.

...read more

book
PRIVATE TOUR.
8
hours
show price for

persons
Gdansk City Tour
An 8-hour Gdansk shore tour gives you an opportunity to visit Sopot, an international health resort. Walking along the half-a-mile-long pier which seems to cleave the sea in two, you will get an unforgettable experience of walking "through water". After that you will be taken back to the port by bus
.
...read more

book
May
June
July
August
September